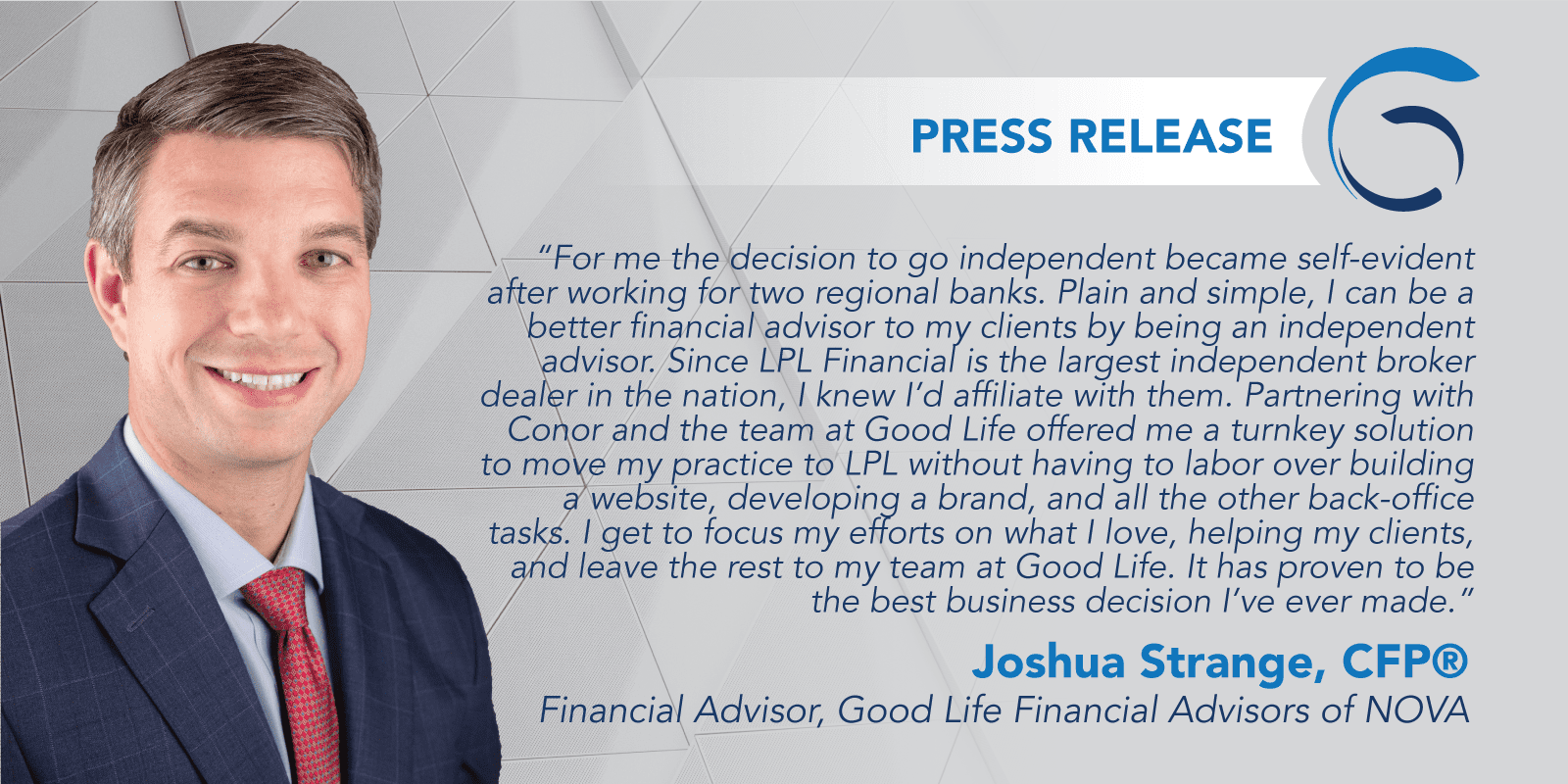 FOR IMMEDIATE RELEASE
Contact: Otis Jacobs
(949) 943-0892 – Otis.Jacobs@GoodLifeFA.com
JOSHUA STRANGE JOINS GOOD LIFE ADVISORS
WYOMISSING, PA — May 17, 2018 — Good Life announces a new partnership with Joshua Strange, CFP®, a Northern, VA-based Financial Advisor previously a Vice President with Suntrust Investment Services, Inc.
"Josh embodies all of the disciplines necessary to thrive as an independent advisor," said Conor Delaney, Co-Founder and CEO at Good Life. "We are fortunate to be forming a partnership with him to build a great office in Northern Virginia. Clients and future advisor-partners in "NOVA" will be better off with a leader like Josh bringing independent advice to the community he serves."
Joshua Strange serves clients throughout the Washington, DC Metro area and across the United States. He has earned the professional designation of CERTIFIED FINANCIAL PLANNERTM practitioner and has an unbridled passion for helping his clients pursue the financial goals they have for themselves and their families. By following a disciplined, holistic financial planning process, Josh is able to help his clients define and prioritize their financial objectives and put in place the concrete steps to pursue them. He commits to his clients to stay with them each step of the way, serving families over multiple generations. To reach Joshua Strange, please call (703) 214-2112 or visit www.goodlifefinancialnova.com to learn more.
"For me the decision to go independent became self-evident after working for two regional banks. Plain and simple, I can be a better financial advisor to my clients by being an independent advisor. Since LPL Financial is the largest independent broker dealer in the nation*, I knew I'd affiliate with them. Partnering with Conor and the team at Good Life offered me a turnkey solution to move my practice to LPL without having to labor over building a website, developing a brand, and all the other back-office tasks. I get to focus my efforts on what I love, helping my clients, and leave the rest to my team at Good Life. It has proven to be the best business decision I've ever made," said Mr. Strange.
For more information, visit GoodLifeCo.com.
PDF Version Available HERE!